SimplytheBest Menu Scripts
The simply the best collection of menu scripts
The 21 best menu scripts
Bootstrap 3 Megamenu
Free MIT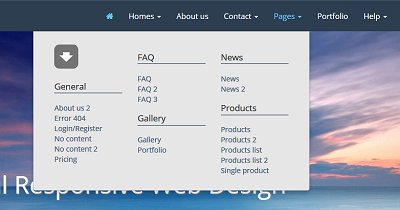 A Bootstrap 3 CSS megamenu add-on that uses the standard navbar markup and the fluid grid system classes of Bootstrap 3. You can include almost any HTML element.
A user-friendly navigation menu is one of the most important components of any modern device responsive Web site.
Slide and Push Menus
Free
Fixed menus that will slide out from the sides of the page and in case of the right and left side optionally move the body.
SmartMenus jQuery
Free MIT Open Source
Menu script optimized for mobile and desktop browsers supporting touch, mouse or both inputs at the same time. List-based markup, CSS driven, unlimited menu trees on the same page and unlimited sub menu levels, horizontal or vertical, absolute/relative/fixed positioning, right-to-left and bottom-to-top display, keyboard navigation and cross-browser support.
Sidr
Free MIT
A jQuery plugin for creating side menus and the easiest way for doing your menu responsive.
An experimental push menu with multi-level functionality that allows endless nesting of navigation elements.
Pushy
Free MIT
A responsive off-canvas navigation menu using CSS transforms and transitions with smooth performance on mobile devices.
Advertisement