SimplytheBest Most Popular Items
The simply the best collection of popular scripts
This is not an introduction to .htaccess. This is the evolution of the best of the best. You've come to the right place if you are looking to acquire mad skills for using .htaccess files.
Telha Bootstrap Theme
$55.00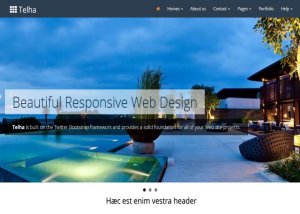 Telha is built on the Twitter Bootstrap 3 framework and provides a solid foundation for all of your Web site projects. It includes all necessary pages and scripts and offers all the functionalities you may need right out of the box. Includes a config.json to easily change main Bootstrap settings and complete documentation.
Extract random MySQL records in PHP
Free GPLv2
To extract a random record from f.e. a MySQL table you can use this sample PHP code to get you going. The snippet uses rand() to generate a random number and LIMIT to select the record from the SQL table.
SleekDB
Free MIT
SleekDB is a simple flat file NoSQL like database implemented in PHP without any third-party dependencies that store data in plain JSON files.
Zepto
Free MIT
A minimalist JavaScript library for modern browsers with a largely jQuery compatible API.
Paragraph Highlighting
Free GPLv2
Use this simple script to highlight a paragraph, a sentence or a word.
bxSlider
Free WTFPL
A jQuery HTML Content Slider with horizontal, vertical and fade transitions, display and move multiple slides at once (carousel), prev / next, pager, auto controls, easing transitions, random start, ticker mode, optional styling included. Before, after, first, last, next, prev callback functions. Has tons of options.
Pikaday
Free MIT/BSD
A refreshing JavaScript Datepicker that is lightweight, has no dependencies (jQuery plugin optional) and uses modular CSS.
Advertisement