SimplytheBest Most Popular Items
The simply the best collection of popular scripts
Bootstrap 3 Megamenu
Free MIT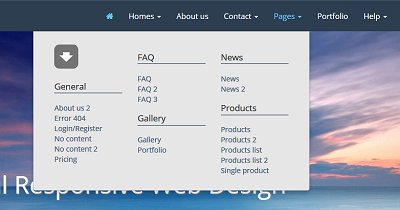 A Bootstrap 3 CSS megamenu add-on that uses the standard navbar markup and the fluid grid system classes of Bootstrap 3. You can include almost any HTML element.
Slide and Push Menus
Free
Fixed menus that will slide out from the sides of the page and in case of the right and left side optionally move the body.
jQuery UI Autocomplete
Free MIT
Enables users to quickly find and select from a pre-populated list of values as they type, leveraging searching and filtering.
Nivo Slider
Free MIT
Display your gallery of images a beautiful experience by using transition effects ranging from slicing and sliding to fading and folding.
FractionSlider
Free MIT
A jQuery plugin for image/text-sliders. It allows you to animate multiple elements per slide, set different animation methods like fade or transitions from a certain direction. Options to specify delays and easing for each element. You have full layout and design control through HTML and CSS.
CodeIgniter
Free OSL3.0
A powerful PHP framework with a very small footprint, built for PHP coders who need a simple and elegant toolkit to create full-featured web applications.
jQuery Edit In Place
Free
JEIP is a jQuery plugin to enable editing in place for input, textarea and select elements.
SimpleTest
Free LGPLv2
A PHP unit test and web test framework with xUnit style test cases. It has support for SSL, forms, frames, proxies and basic authentication.
Advertisement