SimplytheBest CSS
The simply the best collection of CSS
The 21 best CSS
Bootstrap 3 Megamenu
Free MIT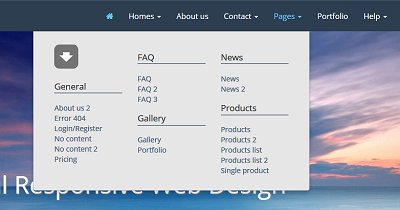 A Bootstrap 3 CSS megamenu add-on that uses the standard navbar markup and the fluid grid system classes of Bootstrap 3. You can include almost any HTML element.
All button effects and animations we include in this page are available for free, so feel free to use them as you please.
A collection of stylish CSS lists.
Sequence.js
Free MIT Open Source
Responsive slider with advanced CSS3 transitions. Using just HTML and CSS, Sequence allows you to create your own responsive slider with unique transitional styles. Over 40 transition options.
A bunch of cool, fun, and cross-browser animations for you to use in your projects. Great for emphasis, home pages, sliders, and general just-add-water-awesomeness.
Less.js
Free Apache v2
A CSS pre-processor that extends the CSS language, adding features that allow variables, mixins, functions and many other techniques to make CSS that is more maintainable, themable and extendable. Less runs inside Node, in the browser and inside Rhino. There are also 3rd party tools that allow you to compile your files and watch for changes.
Lettering.js
Free
A lightweight jQuery plugin for radical web typography.
Modernizr
Free MIT
A JavaScript library that detects HTML5 and CSS3 features in the user's browser. It creates a JavaScript object with the results, and adds classes to the html element for you to key your CSS on.
Advertisement